BAND REPLACEMENT AND REPAIR
The watch band, also commonly referred to as the watch bracelet if the material is metal, is one of the most important components of any timepiece. A watch band, having been around for hundreds of years, has quickly evolved to be recognized as one of the most permanent, highly specialized, and expensive parts of any watch. Your band is the "glue" that holds your watch together, and has its' own style, texture, and color. In addition, your watch band can act as a canvas for your designs, and help tell others about how you are.
Because watch bands are always so personal to people and valuable to any timepiece, the band itself can make or break your watch. Many people waste hundreds of dollars by simply going to buy a new watch in the event their band breaks or is damaged. But that is where we come in. Fixmywatch.com provides a quick and easy way to diagnose, fix, and/or replace your watch band to get it out of the repair center and back on your wrist in no time at all.

Don't love your current watch band? Due to our existing relationships with many national and well-known brands, we are able to obtain original bands, clasps, buckles, and bracelets for many watches in a wide variety of styles and colors that you can choose from. 

At fixmywatch.com, we walk the talk by only providing the best materials for your watch bands that are both long-lasting and can withstand the elements. But that is only a small part of the story. There are other factors to consider, like the interior, and how you project the band onto the watch. When it comes to your watch band, we take all of these things into account. Our number one priority is to ensure that after using fixmywatch.com for your watch bracelet repair, you will love your watch more than ever before.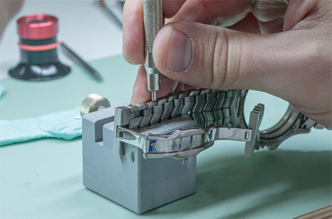 We carry a wide variety of man-made and synthetic bands including:
Stainless steel
Genuine leather
Silicone, rubber, nylon and much more